The no. 1 search word related to Jeju Island of Korea is hands down the "Ollegil (Olle Road)." Just thinking about taking a walk on Ollegil, especially in the autumn with all this beautiful foliage, lifts one's mood.
Some while ago, though, before Ollegil came to be such a hot tourist spot, the first thing that came to one's head thinking about Jeju used to be the "haenyeo," the sea women; they are female divers in the Korean province of Jeju.
The women born in Jeju had to earn a living either by farming crops or picking sea products. The haenyeo often represents a harsh and strenuous life.
What used to amount to as many as 15,000 haenyeo in 1970 has now plummeted down to a mere third of that number; and most of them are over seventy years of age at that, meaning that haenyeo are fast disappearing.
In light of this sad reality, The LA Times published a feature article on Korean haenyeo, their traditions and current situations.
<An article on haenyeo published in The LA Times>
Haenyeo, Epitome of Toughness
The haenyeo is assumed to have first appeared in the primeval! era when people started turning to the sea for food. It goes similar for the haenyeo of Jeju as well, based upon the age of the shrines on the island built for the safety of fishermen and haenyeo. There are several ancient proverbs and old sayings as well that describe Jeju haenyeo's physical strength and their tough lifestyle.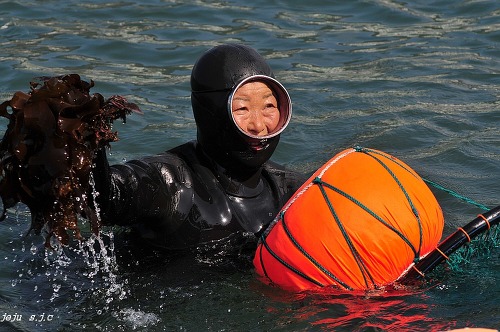 <A Jeju haenyeo holding seaweed she caught (Photo courtesy of naver.com)>
There is one saying to the effect that Jeju haenyeo don't stay in bed for more than three days after giving birth to a child, stressing their toughness. Another saying goes "Born as a Jeju woman, she should be able to support her household, no problem."
The LA Times introduced the life of Jeju haenyeo in its front page, including in-person interviews that actually took place on the island.
The LA Times Illustrates Korea's Old Tradition
The article of The LA Times, one of the five major newspapers of the U.S, featured the youngest Jeju haenyeo in Korea under the title "Korean island women carry on diving tradition." The well-researched numbers and figures in the article point to the fact that the number of haenyeo is decreasing rapidly today in Korea.
The daughters who are handed down the know-how of sea-diving from their mothers (e.g. how to avoid sharks and how to hold breath and stay underwater for a long time) are turning elsewhere for other possibilities of living. Although it is true that not many women are obligated to choose the harsh life of haenyeo nowadays, there still are mothers who take pride in that particular calling, and with that calling, having brought up good daughters.
A Korean newspaper once covered the story of a 69-year-old woman who still hasn't let go of the life of a haenyeo. She started sea-diving at the age of 11, tutored by her mother, and has since lived with and in the sea for 58 years. She says she still goes out to the sea about ten times a month and proudly adds that she has raised a son and four daughters.
Not for Money, But To Keep a Tradition Alive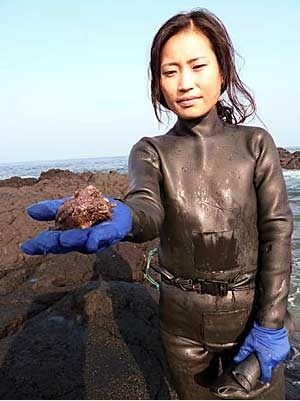 The LA Times article contains an interview of the youngest haenyeo, Ms. Jae-Yeon Kim, who is 33 years old. Ms. Kim says she learns to become a haenyeo not to make money but because it connects her to her ancestors. She must learn all there is to learn about sea-diving before the elder haenyeos pass away so that sometime in the future she will be able to pass down the skills and the know-how.
The article, while praising Ms. Kim's courage in having chosen a lifestyle of such harshness in order to keep a tradition alive, emphasizes the need on a more national level for preserving the traditions of haenyeo. The value and significance of that age-long calling is priceless. original source: http://blog.naver.com/korea_brand/10097438137